ASSELBLAD X2D 100C LIGHTWEIGHT PORTRAIT KIT WITH 45P AND 80MM LENS SUMMARY
The kit includes Hasselblad's latest generation flagship X2D 100C camera with two versatile prime Hasselblad XCD lenses – the XCD 4/45P and XCD 1,9/80mm, which offer an equivalent full-frame focal width of 36mm and 63mm respectively. The Hasselblad X2D 100C Lightweight Portrait Kit with 45P and 80mm Lens makes it effortless to bring medium format image quality with impeccable results along on your adventures, wherever they lead you.
Hasselblad's X2D 100C is the latest generation flagship mirrorless medium format camera, which sports a 100-megapixel BSI CMOS sensor, 5-axis 7-stop in-body image stabilisation (IBIS), PDAF, and a 1TB built-in SSD. Combining a host of technological advances in image quality, focusing, stabilisation, responsiveness, and storage performance, the X2D 100C delivers a compelling creative experience, both in the studio and out in the field.
The large aperture XCD 1,9/80 lens is the fastest Hasselblad medium format lens ever, which features the largest aperture of any Hasselblad lens at f/1.9. With unique twin AF motors and an outstanding optical design, this lens provides an equivalent aperture of f/1.5 and a field of view similar to 63mm on full-frame camera systems.
The light, compact and crisp XCD 4/45P lens is the smallest and lightest XCD lens. It features a compact size of only 47mm and weighs 320g, which is about the same as a professional hot-shoe flash. With a full-frame equivalency of 36mm it's suitable for documentary, street, food and a variety of other photographic genres.
KEY HASSELBLAD X2D 100C FEATURES
Medium format 100MP BSI CMOS sensor
Up to 15 stops of dynamic range, 16-bit colour depth
ISO 64 to ISO 25600
294 phase detection autofocus (PDAF) zones
5-axis 7-stop in-body image stabilisation
Built-in 1TB SSD

CFexpress

 Type B card slot
76M-dot OLED electronic viewfinder (EVF)
High-resolution, 3.6-inch, 2.36M-dot touch and tilt screen
PD 3.0 fast charging protocol
Phocus Mobile 2 support
KEY HASSELBLAD XCD 45MM F/4 P LENS FEATURES
Full-frame equivalent focal width of 36mm
World's lightest autofocus digital medium format lens
Close distance of 35cm
9 elements in 7 groups with 2 aspherical elements
Compact 62mm filter thread
320g lightweight design
Engineered for optimal performance with both film and digital
KEY HASSELBLAD XCD 80MM F/1.9 LENS FEATURES
Full-frame equivalent focal width of 63mm
Hasselblad's fastest ever lens
Close distance of 70cm
14 elements in 9 groups
77mm filter thread
1044g weight
HASSELBLAD X2D 100C LIGHTWEIGHT PORTRAIT KIT WITH 45P AND 80MM LENS IN MORE DETAIL
HASSELBLAD'S FLAGSHIP MEDIUM FORMAT MIRRORLESS DIGITAL CAMERA
The Hasselblad X2D 100C has received universal praise for innovation and the creative possibilities, which a portable medium format system of this quality provides. It's the first medium format camera to boast a built-in 1TB SSD, for fast and efficient storage of large files.
Its 100-megapixel medium format back-side illuminated (BSI) CMOS sensor gives you a native ISO of 64, capturing vivid colour and detail in any lighting conditions. 16-bit colour depth captures 281 trillion colours, with 15 stops of dynamic range allowing the X2D 100C to capture true-to-life highlights and shadows with natural transitions.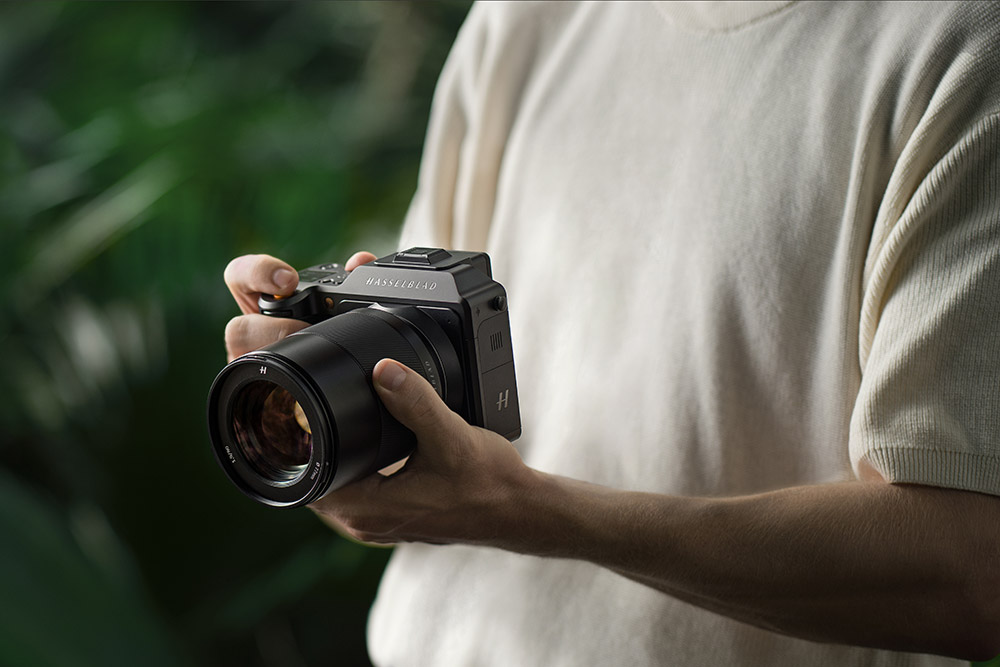 Focusing is better than ever before thanks to 294 Phase Detection Autofocus (PDAF) zones, which are spread over the sensor surface delivering swift and accurate focusing. In order to handhold the camera and make use of the high resolution, Hasselblad has included a 5-axis 7-stop in-body image stabilisation (IBIS) system for excellent results in low light.
Naturally with its Scandinavian design aesthetic the X2D 100C not only looks beautiful, but delivers easy-to-use ergonomics with a bright EVF that magnifies up to 1.0x, along with an upgraded 5.76-million-dot OLED screen. An intuitive user interface with swipe and pinch touch controls plus touch and tilt screen make navigating the menus and image playback a breeze, on the most responsive Hasselblad medium format camera to date.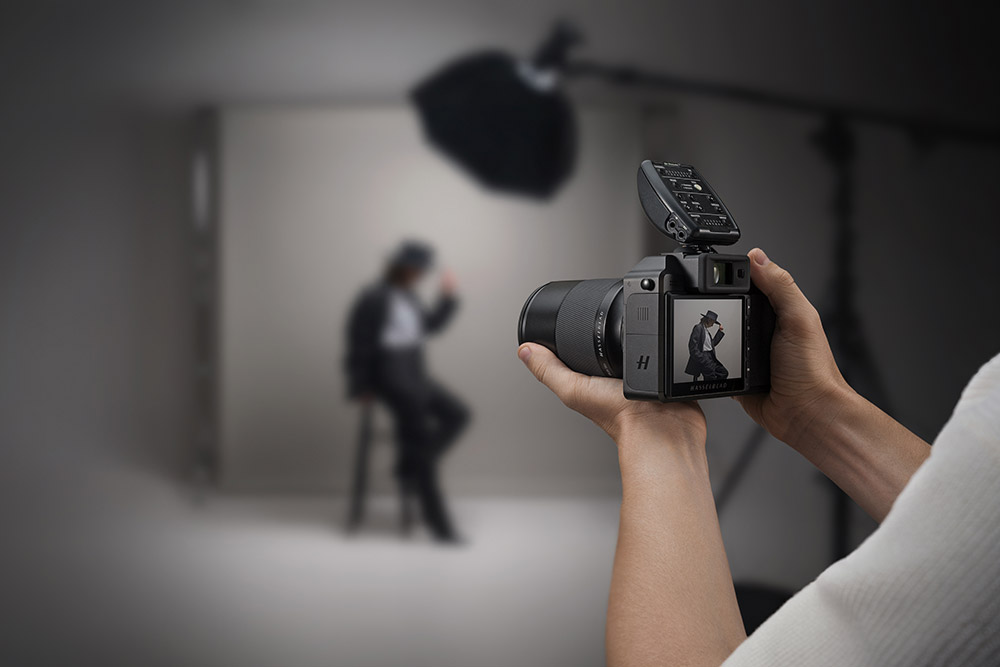 TWO UNIQUE LENSES
For this limited edition kit Hasselblad has included two unique performing lenses which each brings its own versatility to the photographer. With a 77mm front diameter, XCD 1,9/80 supports common filters and threaded accessories and includes a 70cm minimum focus distance (1:6,4 image scale) and an aperture range from f/1.9-32. With its ability to produce pleasing bokeh through excellent subject isolation with a shallow depth-of-field, it is especially suitable for portrait, nature and product photography.
Like the other XCD Lenses, the XCD 1,9/80 features an integral central shutter, offering exposure times from 60 minutes to 1/2000s with full flash synchronisation.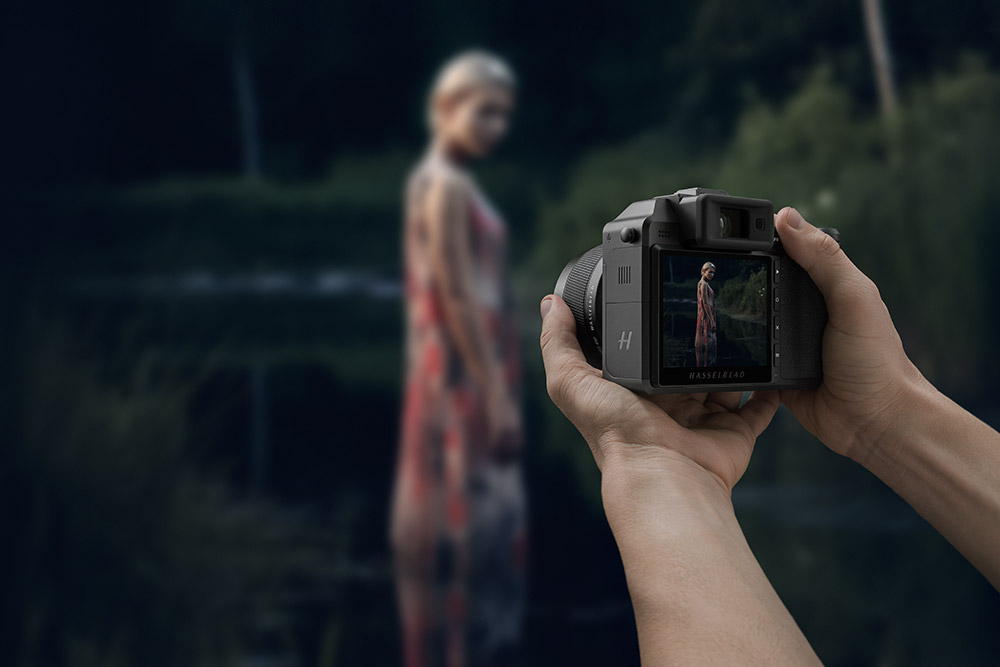 The XCD 4/45P features an optical design consisting of nine elements in seven groups, including two aspherical elements, resulting in state-of-the-art optical performance from a compact form. Despite their small size, unfaltering world-class optics enable Hasselblad X System cameras to fully achieve sharp, high-resolution images.
The shutter system is precision-crafted to be subtle and discreet, with a built-in leaf shutter which remains light and quick, allowing for flash sync up to 1/2000s in the studio or for documentary photography which requires minimal disturbance. The XCD 45P lens has a minimum focus distance of 35cm and a maximum image scale of 1:5.2, making it suitable for food or still-life photography.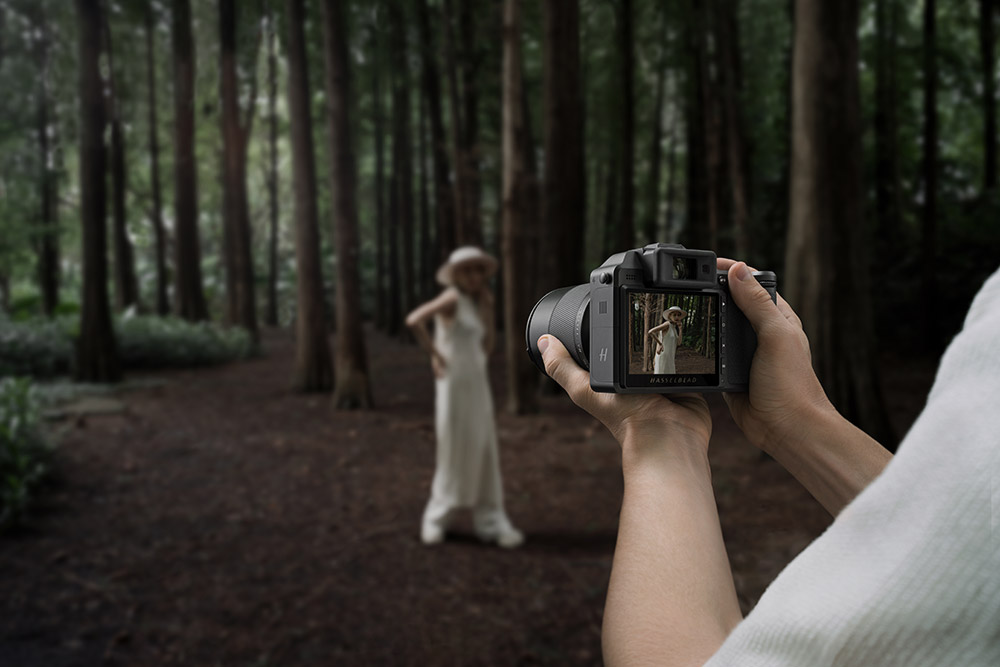 WHAT'S IN THE BOX
Hasselblad X2D 100C Camera Body
30W USB-C charger
Shoulder strap
Battery cap
USB cable
Battery
Front Body Cap
Flash Hotshoe Cover
Camera Strap
Hasselblad XCD 45mm f/4 P Lens
Hasselblad XCD 80mm f/1.9 Lens